Italy is a country where the art of fine food and wine is something that has always been revered. A way of life that has been nurtured and developed over time is still evolving to this day. Nowadays, you can find a variety of food products in all the towns and cities across Italy, from the refined delis of Tuscany to the Tuscan tables of Florence.
Italian cuisine is something that is being appreciated and enjoyed by people from all over the world. In fact, it is a major part of the tourist industry throughout the country. But it's not all about food when it comes to markets in Italy. Many regions are known for markets where you can also buy quality clothes, antique furniture, and much more.
Are you interested in different indoor and outdoor markets in the different regions of Italy? This is the right place. From famous historic markets to food and Christmas markets, here you can find a comprehensive list of the must-visit markets in Italy.
Italian Food Markets You Shouldn't Miss
Food markets are a highlight of any visit to Italy. From Rome to Venice to Milan, there are many authentic markets throughout the country. Visitors can buy famous Italian dishes, wines, fruits, veggies, cheese, meat, fish, bread, and so on. Read on to learn more about what you can find there.
Rialto Fish Market in Venice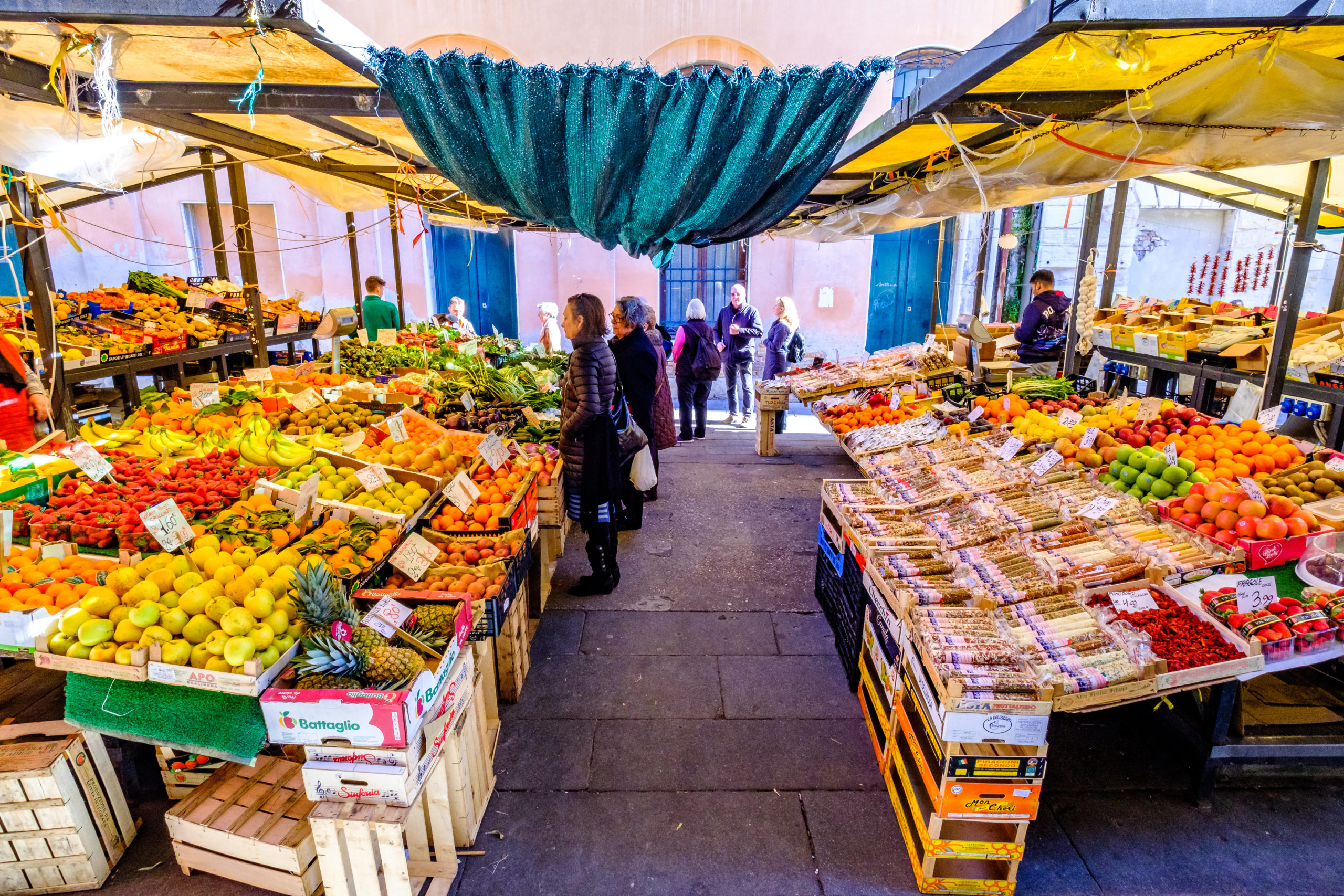 If you like fish, you'll like Rialto too. Fascinating for stunning bacari and canals, this fish market is one of the most talked-about tourist spots in Venice, so it's little wonder this place is always busy. It is visited by thousands of people every day. Here, you can buy all sorts of fish. Bustling stands overflow with fresh fish, meat, fruit, and veggies.
However, Rialto is not only used for buying fish and other groceries, but also for local dining in Venice. It is very crowded during lunchtime, so you are advised to get here early. Don't worry, it's easy to find Rialto. The market is right in the middle of the city, near the Bridge of Sighs.
Testaccio Market, Rome
Positioned by the Tiber River in a neighborhood that has the same name, Testaccio Market is close to some of the major tourist attractions in the capital city of Italy. Although it has moved to a new location – behind the Aventine hill near the fascinating MACRO museum – Testaccio has retained much of its old charm. A walk through the aisles along the river bank will bring you there.
If you want to try fresh-made dishes, visit this place at lunchtime or in the late morning by bumping into our Rome food tours. All'Amatriciana and Cacio e Pepe are the most popular local pasta dishes here. In addition to grabbing a quick lunch, visitors can also buy fruit, vegetables, and almost any household item they may ever need.  
Ballaro Market in Palermo, Sicily
If you're planning to visit Italy, you might want to go to Palermo, Sicily. In this historical city, you'll be able to admire the magnificent architecture firsthand. The city is filled with winding streets, shops, restaurants, and cafes, so you'll never get bored with so much to do in Palermo. Throughout the city, there are cathedrals, castles, and fortresses you can discover while walking through the city center.
Besides, take the time to visit the Ballarò Market on your next Palermo vacation. This spacious food market is packed with stalls that sell unique Sicilian fruits and vegetables like Cucuzza (a long summer squash). You can also buy seafood and meat or dig into street food like Pane e Panelle, chickpea fritters with eggplant. There are many restaurants on the side streets, which are great for a quick snack or lunch after a morning walk.
Best Historical Markets in Italy
Italy is a country with a rich history and culture. It is a land of food, art, and music. Markets have been a vital part of Italian life for centuries. If you want to get to know this country better, visiting its famous historical markets is a must.
Porta Nolana Market (Naples)
Planning to visit Naples? If you want to see the liveliest and most genuine side of this beautiful city, head to the neighborhood markets. Porta Nolana is considered to be the best food market in Piazza Nolana and beyond. Vibrant, noisy, and colorful, this place is nestled below the tall towers of the Castel Nuovo, a magnificent medieval castle in central Naples.
The stands sell everything from veggies and fruit to fish and meat. Here you can also buy eels, oysters, clams, mussels, and a wide selection of spices. If you are looking for street food, you will have plenty of options, including maccheroni (macaroni), Neapolitan pizza, beef panini, and fried food. We recommend that you also try Buffalo mozzarella. However, if you're seeking more than just food, this historical market is likely to have that too. There are also stands selling different knick-knacks and clothes.
Mercato Nuovo (Mercato del Porcellino) in Florence
Florence is one of the most popular travel destinations in Europe. There is plenty to do and see in this old city. That said, it's best to go on guided tours if you want to enjoy the best attractions. Florence is ideal for those who are looking to spend a romantic weekend in Italy. It is also a great place for people who enjoy shopping thanks to some impressive markets like Mercato Nuovo. 
Unlike the markets described above, Mercato del Porcellino has nothing to do with food (although you can buy street food nearby). It comprises hundreds of stands selling everything from straw hats and silk foulards to leather belts and bags. That makes it an excellent place to purchase souvenirs for you and your family or friends.
Mercato Orientale Market (Orientale) in Genoa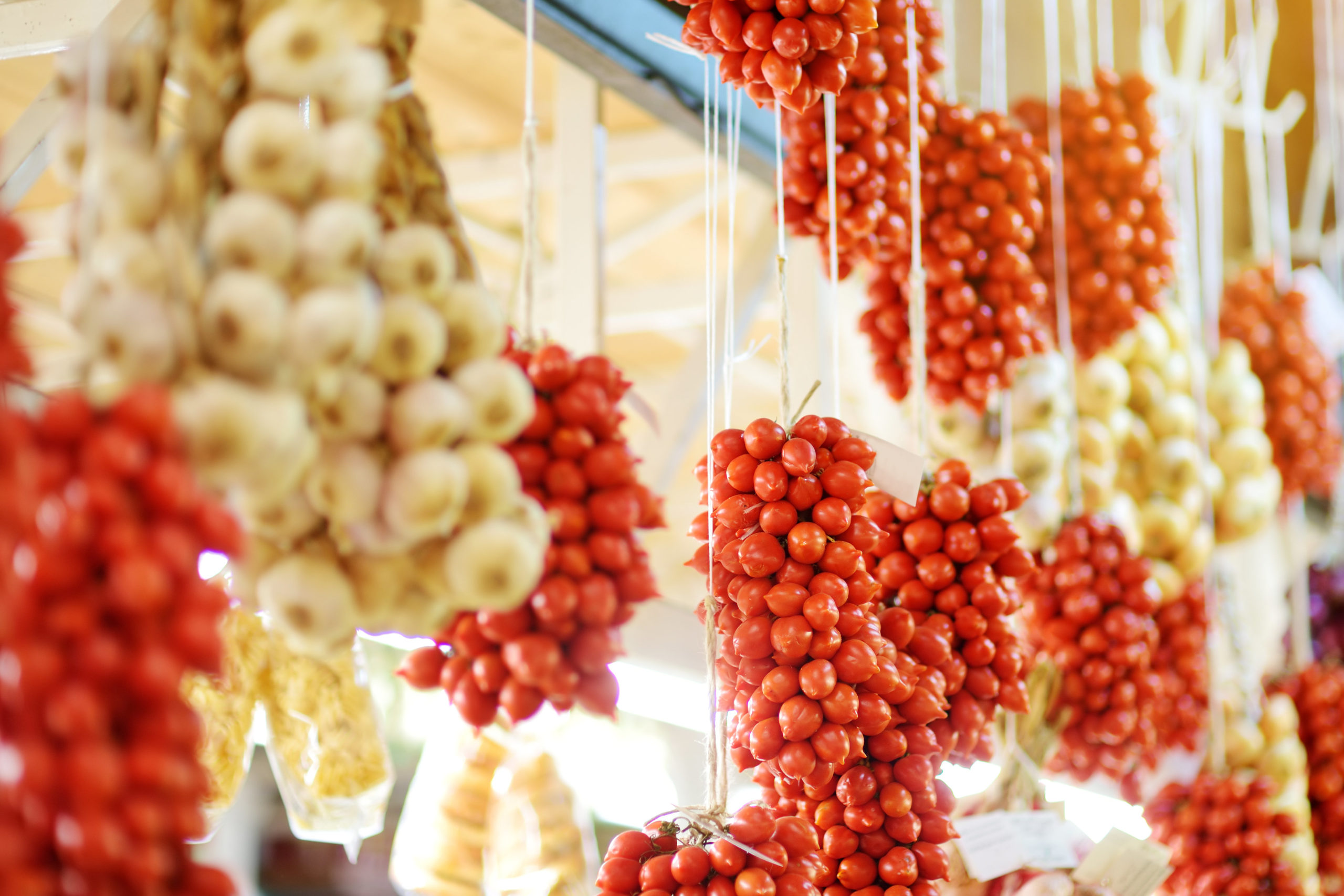 Known as the birthplace of Christopher Columbus, Genoa is an amazing city! It's one of the favorite places to visit in Italy because of its incredibly rich history in the first place. There are a lot of beautiful sites to see and the local food is very delicious. The city has hundreds of restaurants to visit, so you can try Italian cuisine while learning about the local customs and admiring old buildings during your trip.
Food markets are also worth checking out while in Genoa. Mercato Orientale is a place you need to visit if you want to try popular Ligurian foods. This indoor historical market dates back to the 1800s. Today, it offers fruits and spices of all kinds, including genuine Genoese basil. People also come here to buy local cheese and delicious fresh fish.
Christmas Markets to Visit in Italy
Although holiday markets aren't a part of Italian tradition, they are growing in popularity in recent times. As a result, there is an increasing number of regions and towns embracing the tradition of Christmas markets. You'll be able to discover them in many cities throughout the country, particularly on weekends during December.
Here are some of the most popular Christmas Markets in Italy!
Piazza Navona in Rome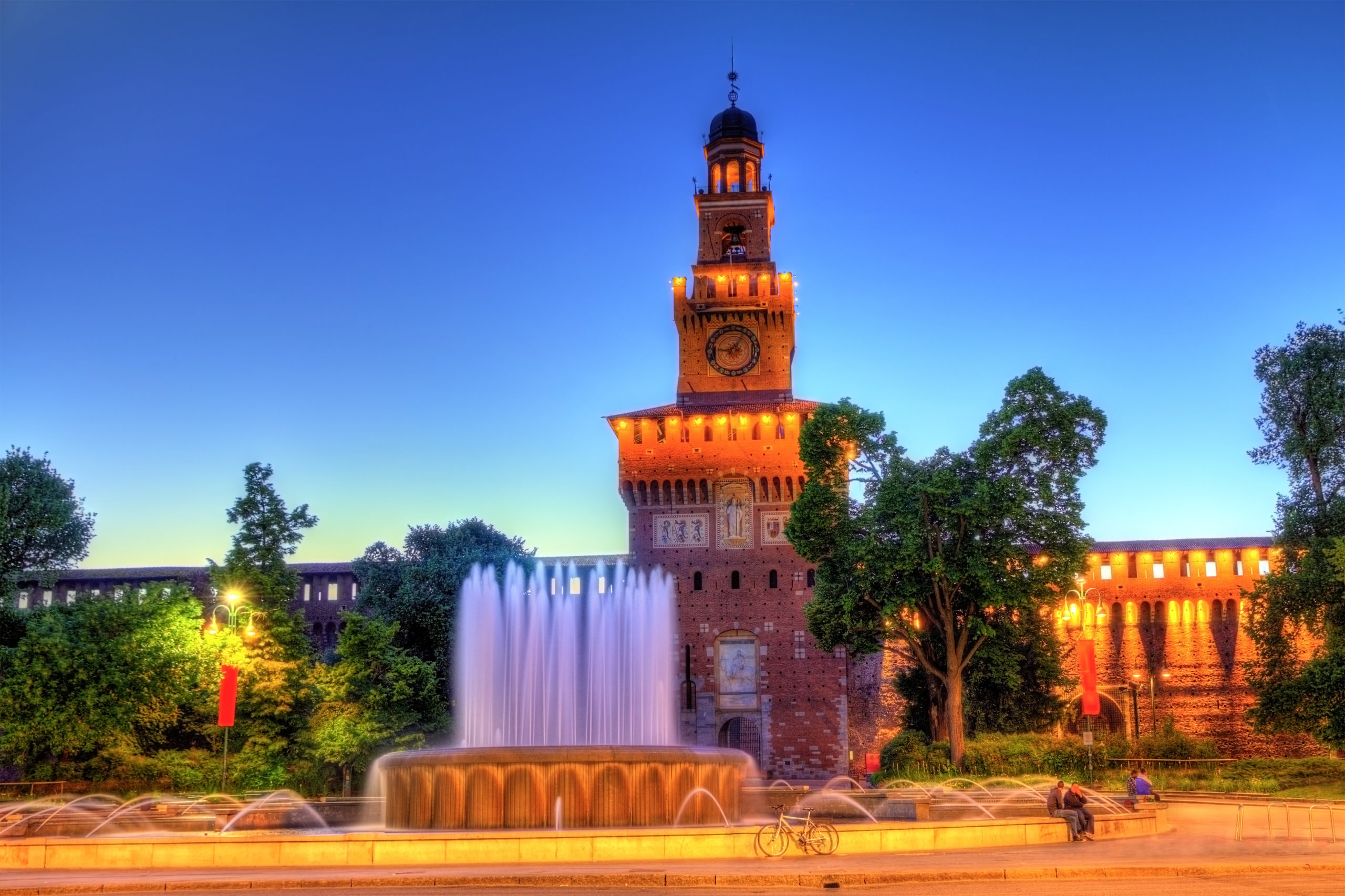 Rome has a few Christmas markets. The market that takes place in Piazza Navon is the most famous one. It is located in a stunning city square among the marvelous fountains. This place turns into a multicolored holiday market in December with numerous booths and stalls selling Christmas gifts, chocolates, and other sweets. Acrobats and street artists add to the charm of this place by playing throughout the Piazza Navona market.
Piazza Castello in Milan
A few Christmas markets are held in Milan every year. Oh Bej! Oh Bej! (oh, so nice!) is the most important Christmas fair in this city. This traditional market is held in Milan from 7 December. It dates back to 1510. Today, this long-running market is still a visited place through the festive season with thousands of tourists and locals meandering around more than 300 stalls. They are filled with clothing, toys, various antiques, handicrafts, festive foods, and Christmas gifts.
River Passirio, Merano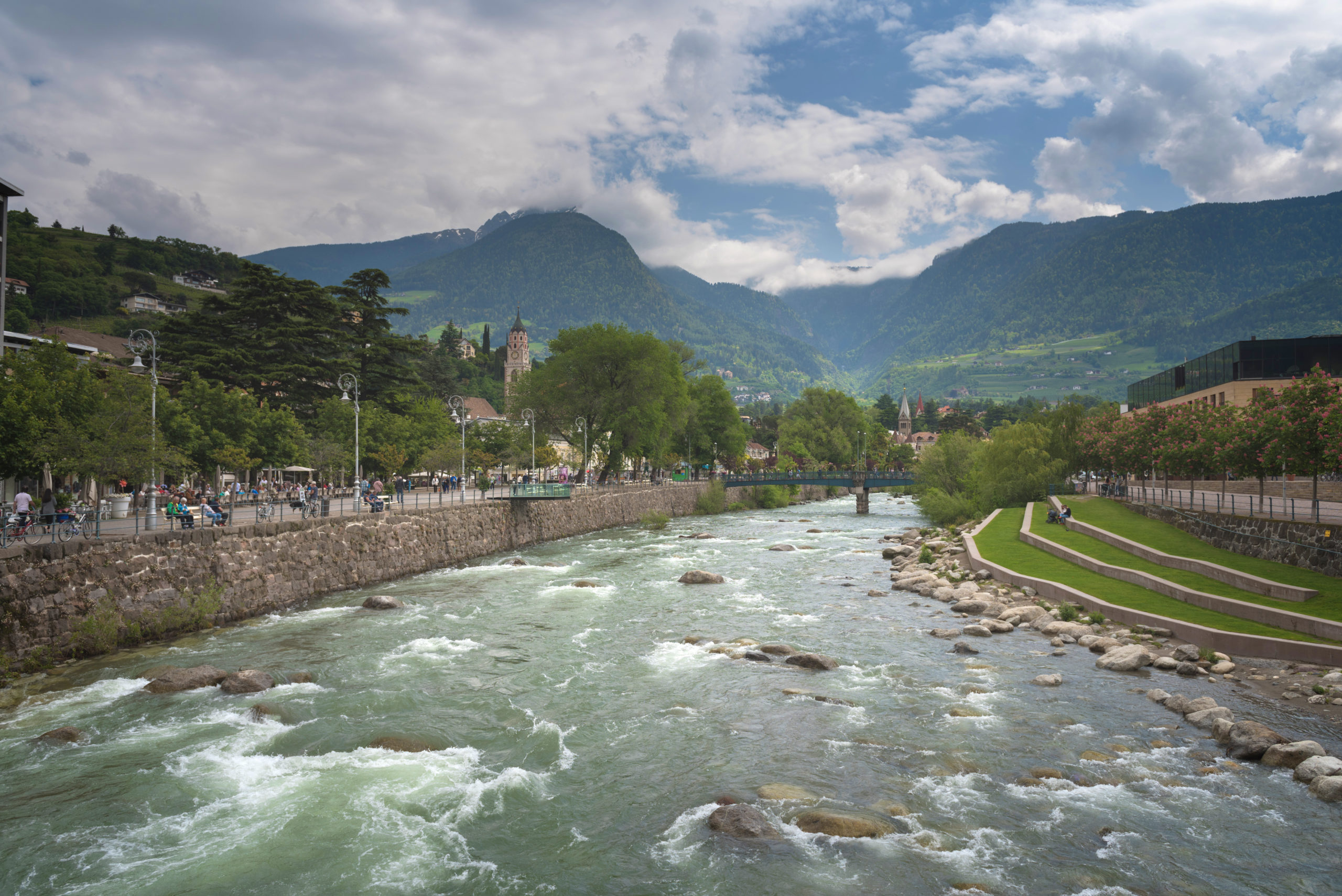 Situated on the River Passirio banks, this wonderful Christmas market takes place in Merano, a city surrounded by mountains in northern Italy. This small city is known for marvelous spa resorts and is considered the most atmospheric destination in South Tyrol. Nativity scenes with life-sized figures as well as Christmas decorations and advent wooden cottages add to the festive atmosphere of this place. The market is open from the end of November to 6 January. This doesn't mean you shouldn't visit Merano throughout the year.
It is definitely worth a visit!
Final Words
Italy is a country that offers a huge number of different markets with great products, food, and atmosphere! They are not only the center of many communities but also the center of many people's daily lives.
This is a unique opportunity to experience the Italian lifestyle and immerse yourself in local culture. A stroll through the markets in Italy can reveal a lot of treasures, especially when you have the right people to help you out.